It feels like my Thursdays have been rainy for quite a few weeks now.
This is the perfect workout for a rainy day (thanks,
Maggie
! I'm definitely going to feel this tomorrow)
This is the perfect meal for a rainy day (or, atleast, part of a perfect meal)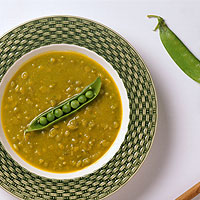 Here's how I made mine (and I'll tell ya later how it turned out): I threw 1 bag of split peas, 1 bag of chopped carrots, 4 cups of vegetable broth, 1 cup of water, 1 package of turkey bacon, and dashes of salt and pepper into the crockpot. I'm cooking it on high, and I'm hoping to enjoy it in the next 6 or so hours.
And, if I weren't reading "Yes, A T-Shirt" (an essay on visual rhetoric), my perfect rainy day reading would be a little bit of Flannery O'Connor (there's something about spring that makes me crave some O'Connor)
Everything That Rises Must Converge --
a book of short stories. Read it. You won't regret it. Maybe you could even skip straight to "The Lame Shall Enter First" -- a personal favorite.
Alrighty -- stay dry. Stay warm. Pray for sunshine.